802.11ac Concurrent Dual-band Unified Access Point
DWL-6620AP
802.11ac Concurrent Dual-band Unified Access Point
•  High combined data rates of 1167 Mbps (AC 867 Mbps + N 300 Mbps) over the air
• Beamforming technology Bandsteering for efficient traffic management
• Support 8 units to form a  self-configuring cluster  to enable effortless provisioning
• Up to 32 virtual access points (VAP) may be created from a single access point
• WMM Quality of  Service (QOS) makes an ideal AP for audio, video, and voice application.
• Up to 16 SSIDs  per frequency band and 32 SSIDs per AP
• 802.3at Power Over Gigabit Ethernet enables installation at hard to reach locations
• Support Dynamic Auto-Channel Selection in Standalone mode
• Support Load balancing to optimise high network traffic volume and redundancy
• Automatic RF Adjustment and Auto Power management in densely AP deployment
Performance without Compromise
Incorporating the latest leading Wireless AC Chipset, the DWL-6610AP delivers a maximum combined wireless speed of 1200 Mbps, up to 4x the performance of Wireless N*.
Broadcast on 32 SSID Simultaneously
Supports up to 32 SSIDs, 16 per radio, including station isolation.
Smart Design
Designed to look like a smoke detector it can be mounted easily onto any wall or ceiling without looking out of place in an office or home. Enclosed in a plenum-rated UL2043 certified housing, the DWL-6610AP adheres to strict fire codes for placement in air passageways.
Band Steering offered as Standard
With band steering, the DWL-6610AP detects whether or not the wireless client is dual-band capable, and if so, it pushes the client to connect to the less congested 5 Ghz band. It does this by actively blocking the client's attempts to associate with the 2.4 Ghz network.
Versatility built as Standard
Whether you intend to use a single Access Point or roll out a large corporate network, the DWL-6610AP coupled with a D-Link Wireless Controller or Unified Switch makes managing your wireless network simple.
Secure and Green Design
The DWL-6610AP has a wireless scheduler feature, which turns off wireless functionality when it isn't needed, saving power and increasing network security.
Fast Seamless Roaming
Combining the DWL-6610AP with a Unified Wireless Switch or Controller allows you to create a wireless network that enables people to move freely around a building without losing connectivity.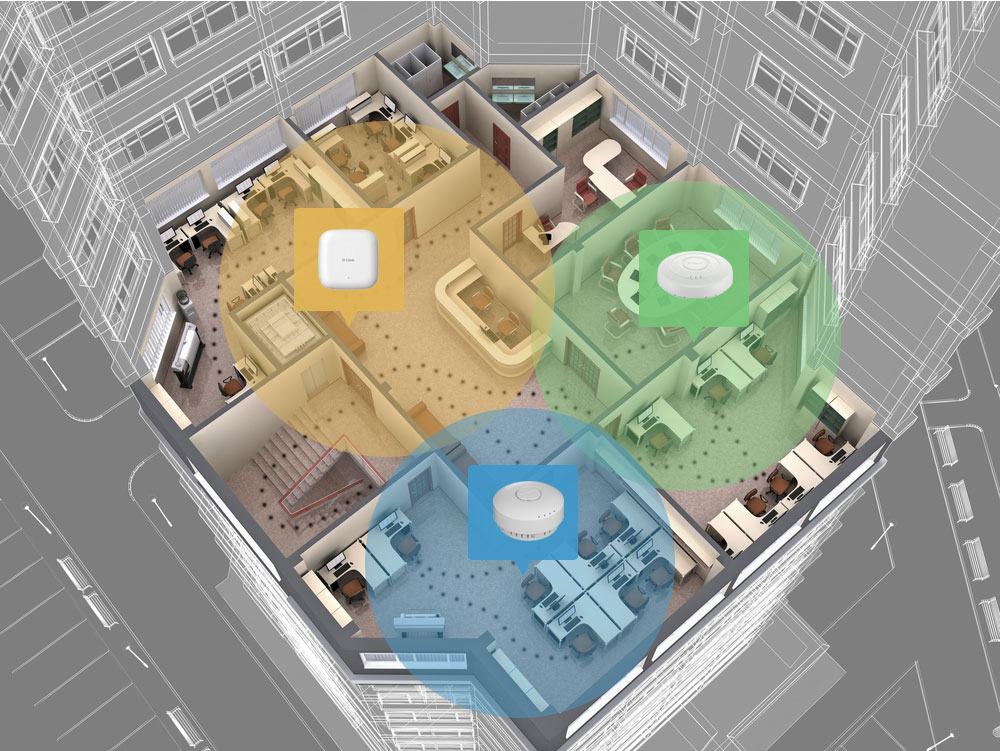 Managed using D-Link's Unified Wireless Controller or Wireless Switch
D-Link's Unified Wireless Access Points can be managed using a D-Link Wireless Controller or Unified Switch.
Simultaneous Dual-Band Wireless
Supports up to 867 Mbps 2×2 MIMO for the 5Ghz band and up to 300Mbps 2×2 MIMO for the 2.4Ghz band
*When compared to Wireless N300